Last Modified at Mon, 09 Aug 2010 09:35:42 JST
---
Get Ultimate Sound Amusement (GUSA-CD)
Copyright (C) 1988-1998 by Hideaki `ArctanX' TANABE ALL RIGHTS RESERVED
Powered by NAGDRV/MXDRV over PCM8 on X68k with MT32/U110
[Japanese / English]
GUSA-CD 10th Anniversary
I composed these songs from 1988 to 1991. About 10 years later, in 1998, I made them burned onto CD-R whose title was "Get Ultimate Sound Amusement" (aka "GUSA-CD"), by using some authoring tools. Since this year 2008 is 10th anniversary of GUSA-CD, I released these songs in mp3 format. Please enjoy them all !!
---
Index
---
Authoring Environment
SHARP X68000PRO(10MHz)
Roland MT-32(+ U-110)
NAGDRV(+ MXDRV) for Human68k
Unknown SoundBlaster compatible card (for recording)
Self-made DOS/V PC with CD-R drive
EPSON PM700/750(for label and cover-art printing)
---
Images
CD Labels
1st edition (Photos taken in Japan in 1998)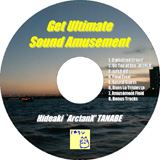 Click to enlarge.
2nd edition (Photos taken in US in 1999)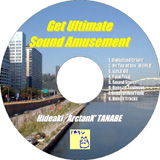 Click to enlarge.
Cover Arts
1st edition (Photos taken in Japan in 1998)
2nd edition (Photos taken in US in 1999)
---
---
Copyright © 1998-2010 ArctanX <arctanx@hauN.org>